Join us October 8th, 2017 at 10:30am for our 125th anniversary celebration!
Welcome to Noblesville First Friends! We're glad you found us.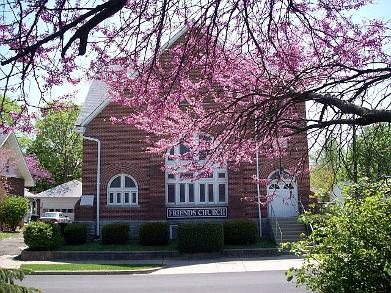 THIS WEEK [September 26 - October 2, 2017]
Wednesday, September 28, 7pm: Silent worship
Sunday, October 1, 9:30am: Isaiah study, Ch 6

Sunday, October 1, 10:30am: "You're Among Friends"
Read past messages on our blog, "The Space between the Words.
About Us
We are a welcoming, peaceful Quaker church in Noblesville, Indiana, open to all who seek to live in accord with Christ's example of love, forgiveness, mercy, and care.
We hope you'll join us for one (or all!) of the following:
Sunday School: Sunday mornings at 9:30 am
Meeting for Worship: Sunday mornings at 10:30 am
Unprogrammed Worship: Wednesday evenings from 7:00-7:45 pm
Monthly Meeting for Business: Last Sunday of the month at noon
Our Staff
Learn more about the friendly staff at Noblesville First Friends.
We Support Our Community
Noblesville First Friends Church is a supporter of and contributor to the following Quaker and community organizations:
In our local community, Noblesville First Friends supports
Noblesville First Friends has an active Outreach Committee. To learn more, please contact us by emailing noblesvillefriends@yahoo.com or by calling 317-773-3686.
Are you interested in Quaker Genealogy?
Contact us for research help or information sharing!
1055 East Division Street, Noblesville, Indiana | 317-773-3686